ADH-22 Super Cement Based Tile Adhesive (C1ET)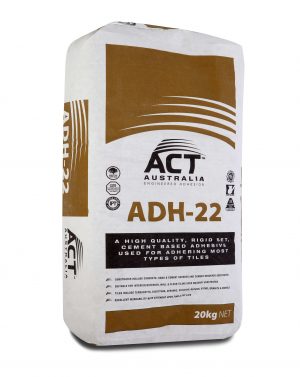 ADH-22 (C2ET) is a rigid, quality, super cement based Tile Adhesive used for internal and external wall and floor tiling applications.
C2 – High Adhesion Strength
E – Extended Open Time
T – Non Slip/Non Slump
ADH-22 is recommended for tiling over concrete, sand & cement screeds, rendered block and brickwork. This includes bathrooms, laundries, toilets, kitchens, decks and patios. ADH-22 is suitable for adhering ceramic tiles such as bicottura, monocottura, natural stone and mosaic tiles.
When mixed with AD-1 Acrylic Additive ADH-22 becomes a flexible, high strength adhesive which can be used for tiling over flexible substrates* and external applications including driveways and swimming pools. 
ADH-22 Tile Adhesive is mixed with approximately 5L of clean drinking water per 20kg bag. Each bag will give you 5 square metres of coverage with a 10mm notch trowel.