Tile Adhesive Projects
Recent ACT Australia Tile Adhesive Projects
Our complete tiling system is the number one choice for some of Australia's best tiling contractors
ACT Australia premium ranges of tile adhesive, grout, waterproofing membrane, screed, specialist primer & silicone are used by some of the best tiling contractors in Australia. We are proud to have had our range of products used on the tile adhesive projects featured below.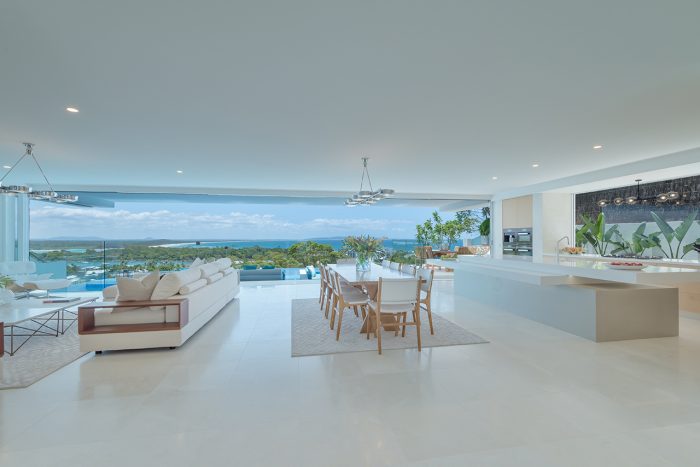 Grand Designs Australia!
ACT Australia was proudly selected to provide a full waterproofing & tile fixing system, complete with 15 year warranty for this Luxurious Private Residency New Construction in Noosa, QLD.
This four storey, seven bedroom, three swimming pool home was designed and built by Premier Developer and Builder Glen Watson Developments and overlooks stunning Noosa Heads.
ACT Australia supplied full Waterproofing and Tiling systems throughout the whole construction. From the rooftop entertainment areas to the fully tiled floor and wall areas throughout all four levels. A beautiful Turkish Limestone was selected for all Balconies, Pool Areas, Bathrooms, Ensuites, Powder Rooms, Entrance and Lobby Areas.
ACT Australia products and system's used throughout the project included our range of Waterproofing Membranes; EP-2 Hydrostatic Waterproofing Membrane, WP-1 'The Grey One' UV Stable Membrane and WP-1 'The Pink One' Under Tile Waterproofing Membrane.
For floor preparation & tiling application; LVL-25 Premium Self Levelling Underlay, Premium High Strength ADH-55 and Prolite Lightweight Tile Adhesives, Prism Coloured Grouts, CEG-Lite Epoxy Grout and EBM-Lite Epoxy Tile Adhesive.
For further information on this project and the products used please contact our office.
Projects