Screed
Pre-blended Screed Engineered to be Technologically Advanced for Australian Conditions
Our Premium Pre-Blended Screed is engineered with technologically advanced systems to ensure you get the best possible screed for any tiling job.
We have taken more than 25 years of industry experience and customer feedback to create our current pre-blended screed.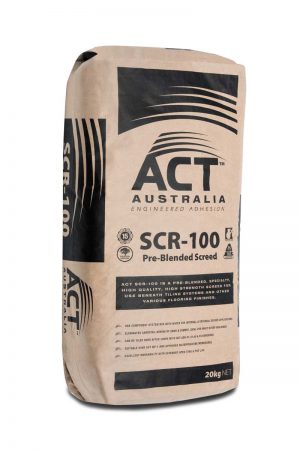 SCR-100-Preblended Sand & Cement Mix
SCR-100 is a specialty, high quality, high strength, sand cement screed mixture for the installation of cementitious screeds and beds.
Being a pre blended mix, SCR-100 eliminates the carrying and mixing of sand & cement on site so is ideal for multi storey buildings. SCR-100 can be used for both internal and external, commercial and domestic screeding applications such as main foyers, floors, shower recesses, bathroom & laundry floors, balconies and patios etc. SCR-100 Pre blended Screed is suitable for use beneath tiling systems and other various flooring systems, Including ACT Australia's WP-1 Waterproofing Membrane.  SCR-100 can be tiled over after a minimum of 24hours with ACT Tile Adhesives ADH-31, ADH-33, ADH-44 & ADH-55. SCR-100 can be mixed with ACT AD-1 to increase compressive strength, flexibility, water resistance and adhesion. SCR-100 Pre Blended Screed is mixed with approximately 2.2L of clean drinking water per 20kg bag. Each bag will give you 1 square metre of coverage at 10mm thick.