Tile Adhesives and Grout, Screeds, Levellers, Sealants, Waterproofing Membrane, Specialist Primers and Acoustic Underlay for trade professionals.
ACT Australia is an innovative Australian manufacturer offering 100% Australian owned and made engineered adhesion systems for the ceramic tiling and waterproofing industry. We specialise in tile adhesives and grout and have partnered by Custom Building Products to develop world class products all with a 15 year product warranty. Learn more about our tile adhesives here.
Popular Products
ACT Australia Product Guide Vol. 3
Contact us
for your free copy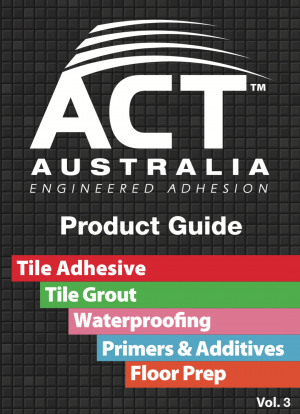 ACT Australia 1200kms for Kids
'ACT Australia is again proud to be the major naming sponsor for the 2017 ACT Australia 1200kms for kids charity ride. We will roll out of Sydney on Saturday 14th of October via New England highway and arrive into Brisbane Childrens Hospital Friday 20th Sept.' Thank you to our customers whose support helps make this possible.